We don't have many holiday traditions in our family, but we do have two really important ones that really makes or breaks a holiday.
1. Gather as many loud, outspoken, dark-humored aunts as possible around one table and then fill them with cider and booze.
2. Lefse. Lefse is like a Norwegian tortilla made from potatoes... that's how I think of it anyway.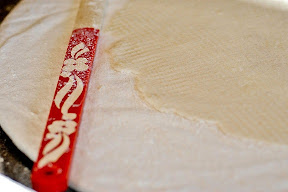 If you want our family recipe (I'm pretty sure it's not a family secret), check out
this
post of mine from last year.
I was just about to type up the exact same thing I did last Thanksgiving... until I back tracked a bit and realized I've already gone down that road. Phew! Close one. Check out my lefse post anyway because lefse is what we look forward to every year. Make it once and you'll feel the same way.
- Sarah