I hope everyone had an awesome Halloween! It's just too bad it landed on a Monday this year. What's up with that? It messed up my internal calendar... I've felt like it's supposed to be Friday or Saturday all day long!
Well, a good time was had by all here on the ol' farm. We didn't dress up or go anywhere but the neighbors. We are such exciting people... I know. But our little one dressed as an "80's aerobics instructor" if not only to stave off princess costumes for one more year.
We were even able to teach her some aerobics "moves". Good times had by all. Here are the highlights. But keep in mind it's harder to get a decent photo of a toddler than it is chicken on run!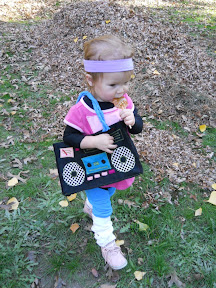 Yes, I bribed my daughter with candy....
Sorry if I posted this video twice, but it cracks me up.
- Sarah